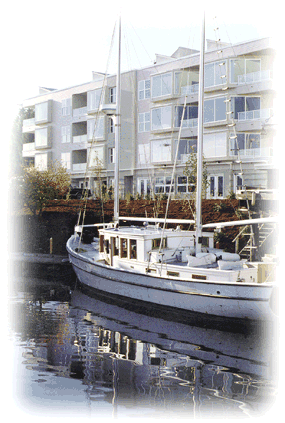 Lockhaven Apartments - spacious luxury units with spectacular views of boating activity at the government locks and along the ship canal. Off street parking and controlled entry to lobby. All units include trash compactor, washer/dryer, microwave, dish washer, and exterior deck. Seperate walk-in secure storage areas located on the ground floor, on a first come, first served, rental basis.
Building A - Twelve units total. Four units on second, third, and fourth floor of building. Six, two bedroom two bath units (three on each end of building). Three, one bedroom, one bath units (one on each floor), and three, two bedroom, one bath units (one on each floor). Each top floor unit has high ceilings with clear-story lighting.
Building B - Two, very private, two bedroom, two bath units located on second and top floor of separate building. Each unit has an expansive deck, gas fireplace, and a gas range.